AppDynamics is an application and business monitoring platform that is designed to let enterprises build and run the applications they need to succeed in today's world.
Key benefits of Appdynamics include:
● Complete visibility into application performance
● Real-time monitoring of business transactions
● Proactive alerting to detect problems before any negative impact
● Faster problem solution and eradication
How does it Work?
● Agents are deployed throughout the network in devices, containers, hosts, and applications. They are plug-ins or extensions that monitor the performance of the application code, runtime, and behaviour. The agents assign unique tags to every method call and request header, allowing AppDynamics to trace a transaction from start to finish.
● The agents then send the collected data to a centralized controller. The controller's task is to receive the individual performance and business metrics from the Agents and send them instructions. All data transactions take place in real time, no matter if the system is hyper-complex with thousands of agents.
● Machine Learning creates a dynamic baseline for every single metric and any deviation from it is captured down to a single line of code. The controller thus monitors, troubleshoots, and analyzes the complete application landscape from backend infrastructure to the end user. All this data is displayed in a straightforward controller UI.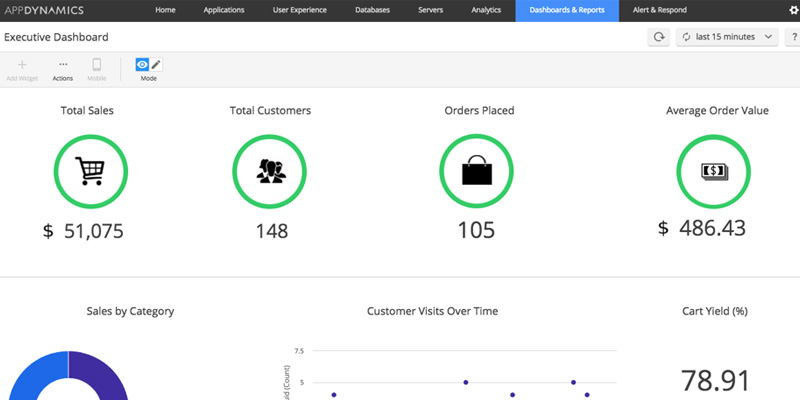 Applications
1. Automatic Application Mapping
Manual changes and code changes consume effort and time when working with most APM Management Solutions. AppDynamocs, however, automatically instruments the code and maps the entire application architecture.
2. Code-Level Application Performance Diagnostics
Most application performance monitors display response time correlation across the application, but AppDynamics allows for broad and deep visibility with its ability to find a class and method-level detail around response time latency in a matter of seconds. This shortens the time taken to get to the root of a performance issue to a matter of seconds.
3. Proactive Alerts
Most other application performance monitors rely on static universal thresholds for pushing alerts, but AppDynamics allows users to set alerts based on application and infrastructure-level metrics as well as Business Transaction performance.
4. Reports
AppDynamics employs dashboards and reports to let users evaluate the cost of performance outages and occasional slowdowns. The user can also demonstrate the value of performance tuning efforts. Performance dashboards and PDF reports are useful to keep the management in the loop.
We, at BayInfotech, harness the power of AppDynamics and bring its vast number of unmatched benefits to your application and services. We strive for a relationship that drives our clients' business forward and helps the application reach the masses at a quality it was intended to do.
BayInfotech excels in a range of Professional Services in planning, implementation and project management, and IT managed services like Cloud Computing and Virtualization, and Training services in the IT landscape. Contact BayInfotech to not only adapt to the rapidly changing IT environment but to lead it.